Dil Se with Chirag on Chaterpillar Newsletter Feb 2013 by Carmaconnect page
Dil Se with Chirag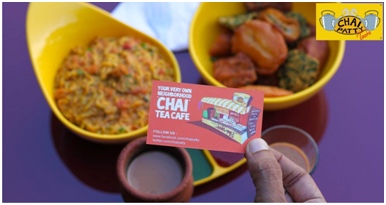 About 2 months ago, the entrepreneurial world in Bangalore came to a standstill. News spread that Bangalore's and maybe India's favourite 'chai-man' had met with an accident and was in a coma. I was part of that community that was shell-shocked and shattered. For those of you who know Chirag, you'll know that's he's always full of life, always smiling and the perfect prototype for an entrepreneur.
This was supposed to be an interview, but there was no way to grab Chirag's essence in a simple question and answer format. So this is just a conversation I had with Chirag, at his favourite and oldest Chaipatty in Indiranagar, over a cup of what else :)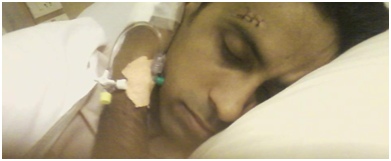 The first thing we talked about was Chirag's accident. Truth be told, he's recovered tremendously. There are very few telltale signs from the accident. Chirag says there are three sides to this story. One is his version of it; the second what God was trying to tell him through this accident and the third what his family is telling him post the incident.
Chirag's version is slightly sketchy because he doesn't remember exactly what happened. All he knows is that the minute he was admitted in the hospital, doctors from AIIMS, Nimhans, and Vickram hospital rushed to his service. None of them charged him for their services and they were insistent that there shall be no surgery, for all of them felt this person was an example entrepreneur doing all good and well. Only medication, in time, would fix
their
Chirag. He was in a coma for 8 days. When he did open his eyes, he didn't remember anything for the first one hour. Then slowly, he recognized his mum, dad and his sister. And slowly things came back to him but they stopped at the night the accident occurred. To this day, he doesn't remember what transpired that night and how he ended up at the hospital. Forgetting 5yrs of life disillusioned his next 1 month but slowly surprisingly he remembered upto 98% and the neuroscience experts at the hospital also mentioned to him and his Dad that his memory is already within 2 weeks better and bigger by 5% than the best-est illusionist/author/scientist and so he should just slowly get more health and get back to his wonderful idea life and brand. His collar fracture also has fully recovered much early, telling his body was quite good fitness and recuperating wise. Dad and him were almost in tears but happy at the brightness of life and God's miracle.
What God was trying to tell Chirag was that he needs to start keeping a few things to himself. He's always been very social (personally and for Chaipatty) and maybe that's not necessarily always the best thing. He's also had a sense of epiphany post the accident and he believes that God was trying to tell him to start focusing on Brand Chirag- the creator his own name – his book (a collaboration with Ruskin Bond or many others he has always appreciated), mementos, music (he's going to start writing and recording songs), magazines and paintings/sketches. But bottom line for brand Chirag will always be to make people around him smile and enjoy life always.
Post the accident, his family has been telling him not to be a child anymore. They're asking him to get ready to get married! But something in Chirag has changed. He questioned why this happened to him time and time again. Part of him has given up on love and heart though his love for fellow mates/humans like family or friends will get him back soon.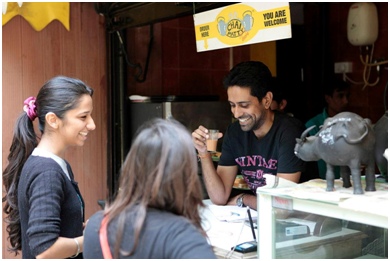 To avoid the awkward silence from growing, we start talking about his baby, Chaipatty. Chaipatty currently has 5 outlets across Bangalore(some are changing). The dream is to add 2-3 more by the end of 2013, post which Brand Chaipatty will move beyond Bangalore into Jaipur, Surat, Pune, Chandigarh and Delhi. Chirag is very keen on collaborating with people and setting up more.
His targets are astounding: 2014 first quarter add 5 more. After that add 10 outlets every year. That's basically 100 outlets in India in the next 5 years. He then wants to add 3000 in 10 years outside India and 900 more in India. Some might be collaborations, some might be own set-ups. The theme of Chaipatty will remain the same across the world – a place to eat, shop Chaipatty products(fashion, artifacts) designed mostly personally by Chirag and participate in workshops (photography, salsa, cocktail-making, pottery, baking classes etc). In fact, Maggi is soon planning a worldwide collaboration with them – a new flavor called Maggi Chaipatty!
Chirag is also keen on expanding the menu at the current outlets. He wants to add pet food (for the pet-friendly mornings), more desserts (desi mithai to high end desserts – muffins, chocolates, ice cream and waffles, pancakes). He also wants to add a few more salads the menu to make it slightly diet friendly. Though all should remember the menu has been same and good for last 2 yrs and still is mostly what Chirag cook and taste well. Chaipatty is also planning to start their home delivery service within a few months (within 5 km of the outlet) from 9AM to 9:30PM.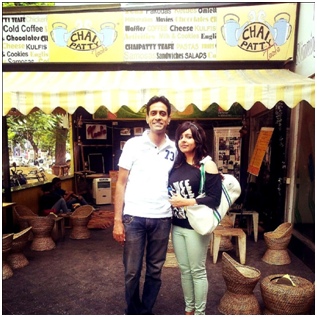 As we wrapped up our conversation, and finished our second cup of tea, I asked him for this segment – a few tips to young entrepreneurs and this is what he said:
1) When you come up with an idea, don't discuss it with toooo many people. They will add too many of their suggestions and it will dilute your idea. Discuss it with your immediate family and get their inputs, but not the whole world.
2) Do not involve too many partners. You only need people to help you. So get them involved but not as partners.
3) Identify collaborations with companies who are supportive and who will let you grow with them.
4) Get a team on board you believe in, not necessarily can afford! Money will always come later. But finding a team who believes in your vision is key.
5) Visibility vis-à-vis social media. Give time to your idea, spread it out to your market. It worked for Chaipatty and I've never spent a penny on marketing!
- Chirag in conversation with Medini Mangala and some additions by him for his blog :)